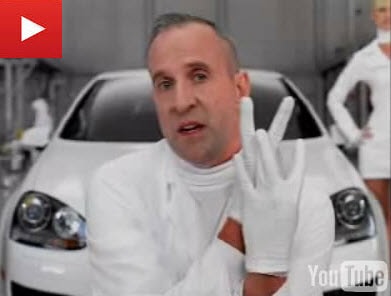 Volkswagen's series of Un-Pimp Your Ride videos became an Internet sensation back in 2006, when they received millions of views on YouTube after Leftlane News uploaded them to the site. The three 30-second commercials used a parody tagline, VDub, and featured Swedish actor Peter Stormare (Fargo, Minority Report, Prison Break, Seinfeld) as an engineer named Wolfgang who wanted to "un-pimps sie auto." The commercials are still as funny today as they were back then - check them out now!
Below, you'll get to see all three back to back, including "Crate," "Wrecking Ball" and "Catapult." The commercials clearly parodied the MTV show "Pimp My Ride" and in each the contestants' cars are demolished and replaced with a Volkswagen GTI, which is still one of the brand's most popular performance-oriented vehicle options. Along with Stormare, the ads featured German model Zonja Wöstendiek as a smug assistant who was unafraid to tell the guys what she thought about their ridiculously pimped-out cars.
Although the ads were a bit controversial among advertising types who thought Volkswagen should use more luxury-focused ads, the hilarity of them won over the public, which is evident from their millions of views in the past and continuing popularity on YouTube to this very day. The commercials were created by advertising agency Crispin Porter + Bogusky. Click play below and enjoy some afternoon funnies.